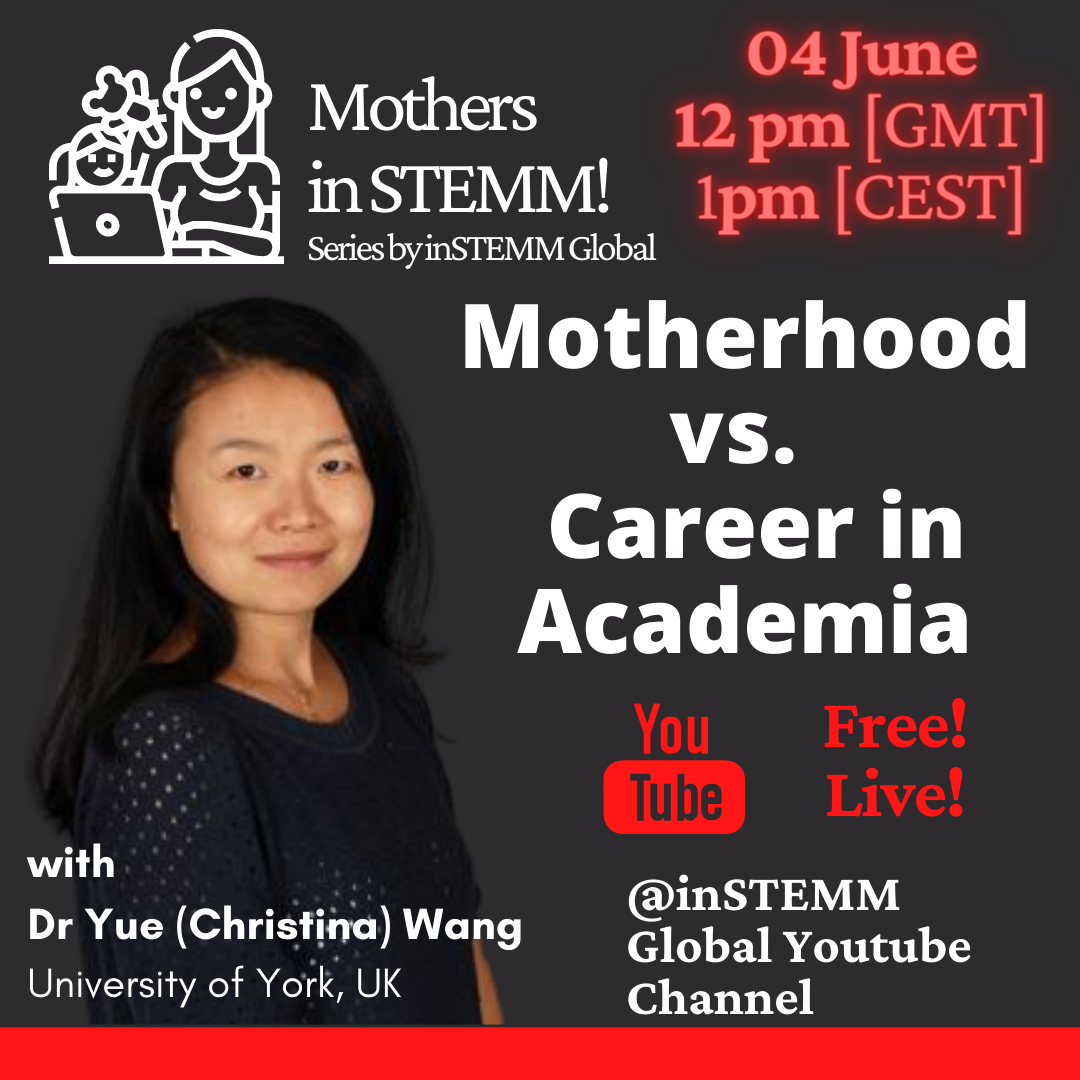 Mothers in STEMM! Webinar Series – Motherhood and Career in Academia with Yue (Christina) Wang
Motherhood and Career in Academia
with
Yue (Christina) Wang
University of York
Being a Mother and a Scientist is a challenge! What are the main barriers preventing women with children to progress in their career in STEMM? How we all together can raise awareness and advocate for workplace equality and inclusion in academia and industry?
The mission of the STEMM Global Series "Mothers in STEMM" is to give voice to mother scientists to build up a strong community that can support mothers and empower women in STEMM. We will interview mother scientists who have build up a successful academic career and at the same time succeeded to be amazing mothers. Ladies will share their journeys in motherhood and academia, how they managed to juggle with multiple projects, teaching, and supervision of students, while not sacrificing family and being role model mothers
Lets talk with Dr Yue (Christina) Wang, University of York, about the main career obstacles she faced as an early career female scientist with two small children? How she managed to catch 1000 things in the research work while still securing a lot of time for children and family? 
Dr Yue (Christina) Wang is a RAEng Research Fellow in the Department of Physics at the University of York. She graduated with a MSc degree from the University of St Andrews and Heriot-Watt University in 2008, and a PhD in 2012 from the University of St Andrews. After working on multifunctional organic lasers for on-chip chemosensing with her EPSRC doctoral prize, she moved to York starting her research on nanostructures for silicon-related materials in the Photonics group. In 2018, she was awarded a five-year fellowship by the Royal Academy of Engineering to pursue her vision of using light emitting layered two-dimensional materials for applications such as silicon photonics and biosensing.
Live Stream at 12 pm GMT, June 4th starts here:
https://www.youtube.com/watch?v=mA-2Gxi7mbs&list=PL2_hlkwKraw3u0cN5Hzkzi71B2v5poEUh&index=2