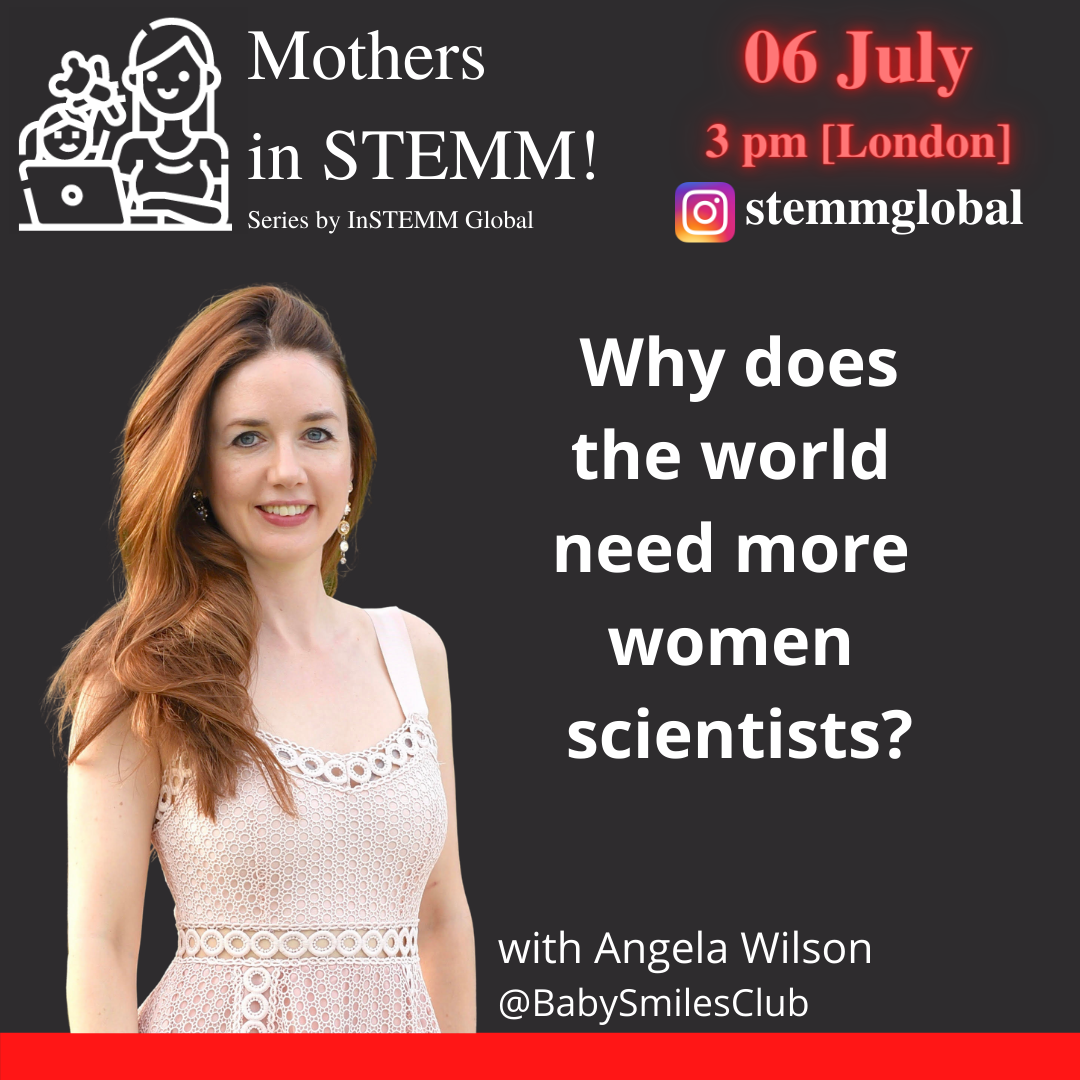 Mothers in STEMM! Webinar Series – Why does the world need more women scientists? – with Angela Wilson
Why does the world need more women scientists?
with
Angela Wilson
Baby Smiles Club
The mission of the STEMM Global Series "Mothers in STEMM" is to give voice to mother scientists to build up a strong community that can support mothers and empower women in STEMM. We will interview mother scientists who have build up a successful academic career and at the same time succeeded to be amazing mothers. Ladies will share their journeys in motherhood and academia, how they managed to juggle with multiple projects, teaching, and supervision of students, while not sacrificing family and being role model mothers
Lets talk with Angela Wilson about some women-in-science issues. Why do comparatively few women study science at university? How does a science grounding at university steer approach in life? Why does society think that scientists need to look a certain way? Why do we need more women scientists in the world? Why do we need more senior women in all fields across the world? Does society have a problem with smart women? Why didn't she stay in science after finishing her degree? How did being a scientist help her become a lawyer? Why the Baby Sleep Program was created? What's the role of science in the Baby Sleep Program?
Angela graduated from Cambridge University in 1999, with a Double First in Natural Sciences, specialising in Chemistry. She then went on to study law and became a lawyer at one of the world's top law firms. Following a successful career as a lawyer in London (and briefly, Singapore), Angela moved to Denmark in 2019 with her Danish partner and 2 month old son. Having seen numerous friends of hers struggle with their baby's sleep, Angela wanted to learn as much as she could about baby sleep to help her son get the best sleep he could. Her research inspired Baby Smiles Club, an online Baby Sleep Program founded on the latest science about how babies sleep and attachment theory.
Live Stream at 3 pm (London), July 6th starts on Instagram @stemmglobal